Blue Mountains mtb rides
Lawson Ridge



It's been too long between rides out here, and recently I didn't make it the whole way, faceplanting over one of the many waterbars I'd been enjoying. Over 25 km/h to zero. I didn't enjoy that one, but the subsequent black eye started many conversations...

Before that all too rapid stop, I'd been having a great time, and was even reflecting that the ride's currently (January 2015) quite suitable for beginners. They'll need to be able to handle the distance and will walk up some hills, but the track's not technically difficult if you take it easy over the waterbars and down hills. Note: Conditions could change in the next storm! Always ride to your ability. Ahem.

Advanced riders won't be able to help themselves, and will enjoy many of the waterbars. Just be aware that the shape of some waterbars tends to kick the rear wheel higher than you'd like. Your task is to pick which ones are safe, and which will beat you up, adjusting accordingly.

Lawson Ridge is an out and back firetrail that doesn't really go anywhere. Maps show a lookout at the end, but I've never found it, and usually stop at a large rock shelf after about a kilometre of overgrown, very deeply leaf littered singletrack.

The views are mainly of nearby bush, but distant views appear from time to time. Spring and summer see a variety of flowers come and go, and summer sees some beautiful tree bark changes - angophoras dropping their faded bark and displaying fresh pink and orange skin, and various eucalypts with pale yellow to white skin. Looks very nice in the late afternoon sunlight.

Downhills and waterbars abound, but I found some of the waterbars kicked the rear of my bike into the air a bit much, and as mentioned before, one kicked the back up enough that it started to overtake the front on landing, sending me rapidly earthwards.

Pick carefully, and you'll have a great time, pick badly and you'll pay.

Most of the track is fast, open, well packed firetrail, and not technical apart from the waterbars.

There's lots of sidetracks off Lawson Ridge to explore, a few I still haven't explored.

One good sidetrack I've nicknamed "The Dipper", because it's like a rollercoaster - you get to tear down some big hills, but just like Luna Park, the climbs to the top are a slow struggle. I always walk a few of the hills, even coming down from Lawson - one is a killer! The Dipper is best riden from Lawson before taking on Lawson Ridge. Head straight down San Jose Avenue.

You'll find nice views and the pleasant Frederica Falls along the Dipper. Frederica Falls also has a bbq plate if you are so inclined - watch out for fire bans though. Here's a short video clip of Hodgie, Helen and the hippy having some fun on the Dipper. No sound, 19 seconds 2720 KB. The Dipper is in fairly good condition, but the downhills may be loose.

If you don't get air along this track you're not trying - especially if you come from the Lawson end.

The Dipper, looking down from the gate at the Lawson end
| | |
| --- | --- |
| | A detour up to the top of Blue Mountain (the Blue Mountain - on the way out, turn right at the fork after the last house on the dirt) rewards the rider with views to the east and south, but trees have grown into the city views. |
| | |
| There are still panoramic views to the west. | |
| | |
To get to this ride, catch the train to either Lawson, or Hazelbrook. If you get off at Hazelbrook, head west up the highway. You can use the shared path on the northern side. Queen's Road is off to the right at the top of the hill. From Lawson, head back towards Sydney, either on the highway or Badgery Crescent, the back road that runs parallel and to the north of the highway. Queen's Road turns left where Badgery Crescent returns to the highway - if you steam down the big hill into Hazelbrook, you've gone too far... If you drive, you can park right out Queen's Road where the dirt starts and go from there.
Follow Queen's Road till it turns to dirt, and continue past the mobile phone tower. Take the right fork down through the gate into the national park. You'll go past a couple of driveways and houses before reaching a locked gate and low fence. Take the next left fork (unless you are going up to Blue Mountain) and then follow the main trail till the end.

A lot of riders stop at the little clearing in the last photo, but this is where the singletrack starts, so I keep going until a big flat rock shelf, about a kilometre further on. The singletrack isn't recommended for beginners, not because it's particularly technical, but because it's indistinct in spots, and covered in sticks, fallen bark, and deep leaf litter.

Turn around and come back, exploring some of the sidetracks on the way.


veer right



straight ahead at the gate


just after the gate, turn left


keep going for some singletrack
Aboriginal sites:
A few hundred metres down Queen's Road is Kangaroo Street. Turn left and climb the short hill to see some interesting Aboriginal rock engravings of a ...kangaroo... Another Aboriginal site is at the start of the climb up from Hazelbrook. Take the shared path (R/H side), as the hill starts and you cross a raised section of path, look to your left to see a rock shelf that has been dug out hold water.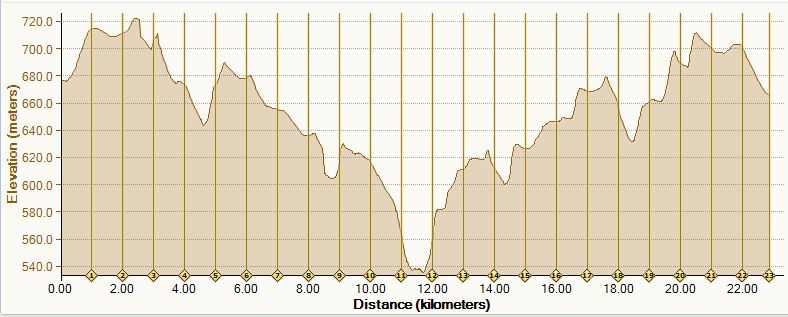 Lawson Ridge - Hazelbrook shops to end and back

Distance

~20 km

Difficulty

Medium/Hard - may need to walk some uphills.
Surface may be loose.

Time

Varies - several hours recommended for the whole ride.

Trains

Lawson or Hazelbrook - timetable

See also...

The Oaks (Woodford to Glenbrook), Terrace Falls, sidetracks

Interest

Blue Mountain, Aboriginal rock engravings, great rock formations

Last reviewed

January 2015
Lawson Ridge scores a jumpy 4 fat hippies




All rides are now rated in Fat Hippies - one means grab a slice of pizza and stay on the beanbag, two means not bad, three means well worth a ride, four is a great ride and five means stop looking at your computer, go ride it!


another fAt hIpPy production