Homemade bike lights
I've sold out and moved to commercial lighting systems. Given how much good lights have come down in price and the advances in LED technology, it's much harder for a home tinkerer to build value for money for their efforts than it used to be. Of course, it's still fun to play, but most of us would be kidding ourselves if we think we could build a complete LED lightset for under $100 - especially when we include a battery, charger, and our labour. I might have a go at improving my Ayups at some point - or maybe I'll just buy Magicshine - Chinese, cheap and bright...
Because it's such a blast belting down a narrow tunnel of light on a bumpy firetrail, and I was aghast at the cost of reasonable commercial systems, I made my own el cheapo push bike lights. Suddenly I could see and be seen. This early article was originally published by Oz-on-Dirt, a one time MTB ezine.
This list is really only kept for historical (hysterical?) reasons - cheap LEDs have become common, and even the best LEDs aren't outrageously priced anymore, even if you wouldn't call them cheap. This is the way we used to do it in the good old days, kiddies. Now get offa mah lawn!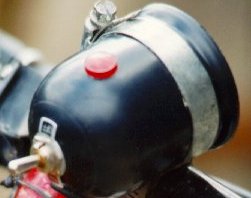 another fAt hIpPy production