Blue Mountains mtb rides
Mt Hay, Leura
Mt Hay has some spectacular scenery, but is a long medium-hard corrugated trail. In fact, the corrugations really drag the ratings of this ride down.
For more great views, take the walk out to Lockley Pylon, past The Pinnacles, we took the bikes, but ended up carrying and pushing them most of the way, as the track is very narrow, overgrown and covered in loose rocks. I think next time we'll just chain them up somewhere out of sight. Out here the winds really howl - actually picking our bikes off the ground (as we pushed them), and nearly blowing us over. The waterfall at the end of Fortress Creek would fall for a bit, then reverse gravity and go back up. The last little saddle before the Pylon seems to be perfectly positioned to act as a NASA wind tunnel. Nothing but grasses grows here - anything bigger blows away. As the wind hits the saddle, the grass twitches and shifts, so much so that it looks like a living carpet, rippling its way to the horizon. From the Pylon, you can see Govett's Leap at Blackheath and way down the Grose Valley - cliffs of up to 300 metres relative height line the valley.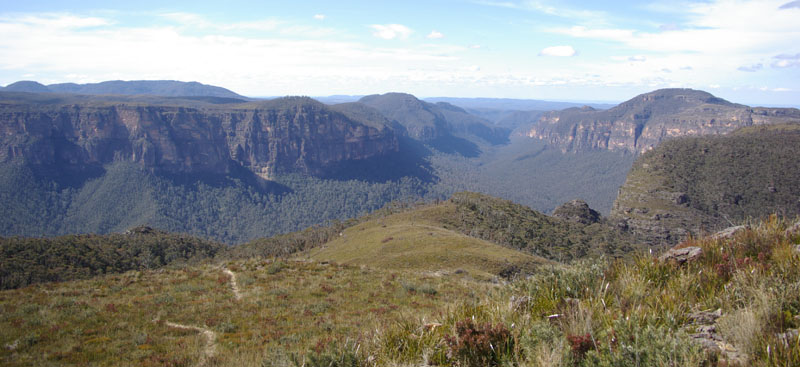 that's Mt Hay to the right, from Lockley Pylon
When you reach the Mt Hay carpark, there's a track that runs to the top of Mt Hay itself. Most of it's overgrown and steep, with only short sections rideable, so it's easier to hide and lock up the bikes and walk. The views are fantastic - windblown heathland, huge cliffs, Grose Valley, and the city and plains. In mid-October, the area is likely to be covered in sweet smelling boronias and blue ground orchids, almost making me forget the corrugations I had to face on my return.
This ride scores 3 Fat Hippies - it would probably
rate as a 4 to 4.5, if the road wasn't so badly corrugated.



All rides are now rated in Fat Hippies - one means grab a slice of pizza and stay on the beanbag, two means not bad, three means well worth a ride, four is a great ride and five means stop looking at your computer, go ride it!
Distance

~36 km return to station

Difficulty

Medium/Hard - may need to walk some uphills. Winds can be
ferocious particularly in August - September. Surface may be
loose and is usually corrugated.

Type

Dirt road - cars allowed.

Time

Varies - around 2 - 3 hours if you just go straight out and back,
but don't waste those views, take your time.

Trains

Leura - timetable

See also...

sidetracks

Interest

Lockley Pylon, The Pinnacles, Flat Top, views of the Grose Valley


another fAt hIpPy production